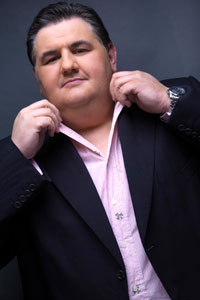 Pierrot at his most seductive.
What to write about this week? Victories for Lyon and Marseille in the Champions League; Rennes, unbeaten at the top of
Ligue 1
; o
r perhaps Karim Benzema's potential move to Man United? No. I'd rather write about an extremely fat man, Pierre Ménès.

Canal Football Club, broadcast live every Sunday evening, is the French Match of the Day. Admittedly, it was established in the early nineties and is only available to subscribers to Canal Plus - but you get the point. Among the motor-mouths and has-beens who people the show, Pierre Ménès stands out not only for his bulk but because of his articulacy and his capacity to provoke. His arguments are as weighty and well-rounded as he is.

To the best of my knowledge, Ménès is the only football pundit to have worked as a holiday rep. at Club Med (a career that would have suited Robbie Savage and Ian Wright). Bored of orchestrating conga lines - though presumably not of the "all you can eat" buffet - Ménès decided to try his chubby hand as a freelance journalist. He was recruited by France Football but defected to
L'Equipe
in 1983. There, he initially covered
Ligue 2
, then
Ligue 1
,

before becoming a special correspondent on the national team and finally on Arsenal.
Since Ménès left
L'Equipe
in 2004 to focus on radio and TV, his celebrity and waistline have steadily grown. He has appeared (as himself) in several films and is frequently lampooned by
Les Guignols de l'info
, France's answer to Spitting Image.
No official record exists, however, I'd estimate Ménès' tonnage to be between that of Matt Le Tissier and an Airbus A380. Still
, Ménès might not be the fattest figure in French football. Montpellier's media-friendly president Louis 'Loulou' Nicollin is another epic tubby, famous for his girth and his explosive forays into the
Paillade
changing room. It's impossible for the armchair fan to judge whether Nicollin is actually fatter than Ménès given that even wide angle lenses can't accomodate both prize porkers simultaneously. Probably best then to declare that they shared all the pies.
Before signing-off, I want to apologise to any morbidly obese readers. If I upset you, I'm sorry. Now help yourself to another cream cake - it'll help.

Til soon and good appetite.